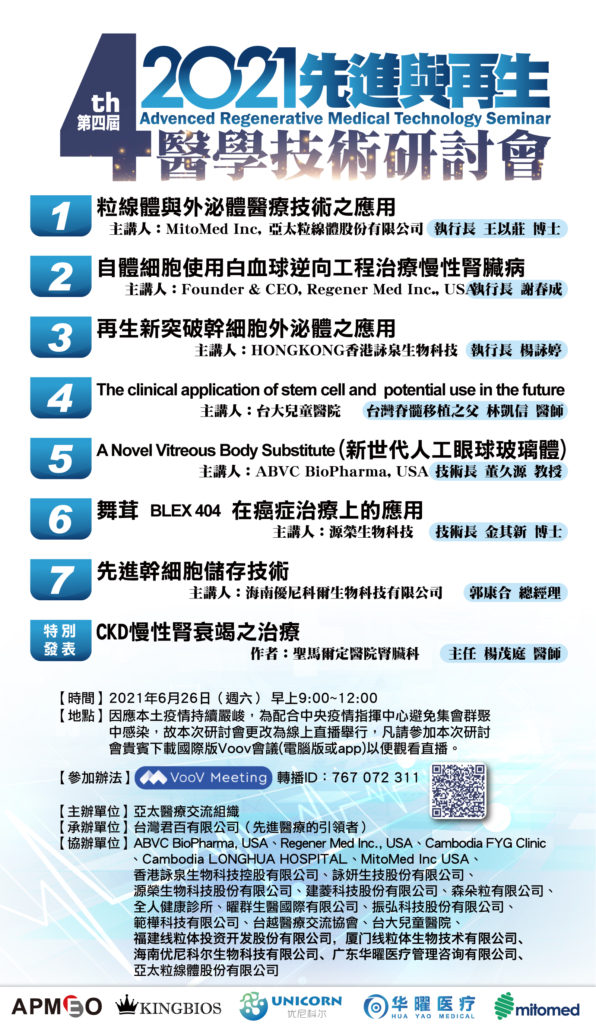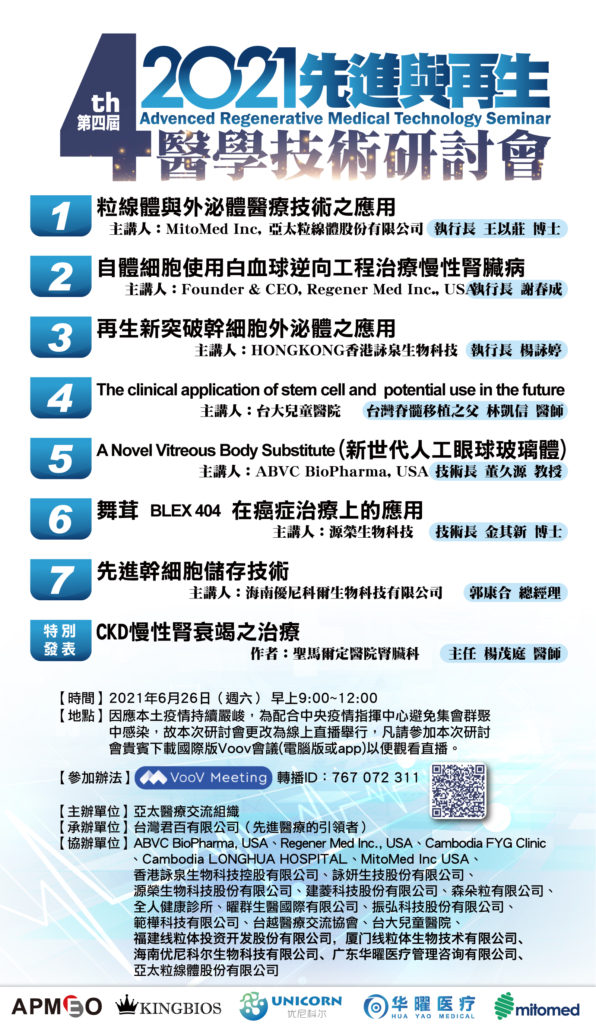 2021, 4th ARM Symposium
Website:https://ppt.cc/fkYPAx
Announcement:
In response to the continuing severity of the local epidemic, in order to cooperate with the Central Epidemic Command Center to avoid infection in the gathering, the seminar on June 26, from 8:30am to 12:00pm was changed to be held online. All guests who participated in the seminar should register online at the following website and download the international version of Voov conference (PC version or App) to join the live broadcast.
The theme of this seminar on advanced and regenerative medical technologies will focus on the application of mitochondrial medicine and exosome treatment of diseases, as well as anti-aging technology. Successful cases of using cell technology to treat chronic renal failure will also be shared during the event. Additionally, the seminar will present the latest technologies in advanced cancer treatment and retinal detachment. These topics will be explored in-depth and in real-time during the seminar.
Topics and Speakers:
Practice of hematopoietic stem cell transplantation- Dr Lin , Kai-Hsin, Father of Taiwan Spinal Cord Transplantation, National Taiwan University Children's Hospital
Application of mitochondrial and exosome medical technology- Dr. Wang,Yi-Chuang, CEO, MitoMed Inc (Taiwan)
Reverse engineering of autologous cells with white blood cells for treatment of chronic kidney disease- Hsieh,Chun-Cheng, Founder & CEO, Regener Med Inc (USA)
Application of regenerative breakthrough stem cell exosomes-Yang,Yung-Ting , CEO of U-trend Biotech Co Ltd (Hong Kong )
Treatment of retinal detachment with a new type of oxidized hyaluronic acid medical material -CTO, BVC BioPharma, USA
The extract of Maitake Mushroom is used in the combined treatment of cancer drugs-CTO,Rgene Corporation, (Taiwan)
7Chronic Kidney Diseases (CKD) Treament-Dr Yang,Mao-Ting, St. Martin De Porres Hospital, Department of Nephrology, (Taiwan)
Time :Jun 26, 2021(Sat) 8:30 am to 12:00pm
Organizer: Asia Pacific Medical Exchange Organization (APMEO)
Implemented by:Taiwan KingBios Ltd
Coorganizer: U-trend Biotech Co Ltd,Yong Yan Biotech Co Ltd, Jian Ling Technology Co Ltd, Senduoli Ltd,Dr.Wellness,Glorious Medical International Ltd,Chen Hung Tech Co Ltd, Fan Hua Tech Inc,Taiwan Vietnam Medical Exchange Association,MitoMed Inc
Meeting App: Voov conference (computer version or app)
Hotline: 0800-089-900
Email:apmeotw@gmail.com
Register Website:https://ppt.cc/fkYPAx
The use of Voov conference is as follows:
Download the international version of Voov conference (computer version or app)
After installation, you can easily log in via WeChat or Google
After logging in, please click to join the meeting, Meeting ID :767 072 311
The official version and presentation order of the topic content shall be subject to the official announcement by the organizer on the day of the event.